Valentine's Day is a holiday of many treats. Last year I shared sweet and savory breakfast of PB Pancake Heart Sandwiches. This year I decided to make a classic treat- Vegan, Gluten-Free Valentine's Day Cupcakes with Strawberry Icing.
The cupcakes are super simple to make. I added cocoa powder to half the batter to make some of the cupcakes chocolate, and both flavors were the perfect base for strawberry icing.
As regular readers of the blog know, I usually don't use refined sugar in my recipes. I'm happy to use maple syrup, agave, etc. at home and only indulge in refined-sugar filled goodies if I'm out at restaurant that happens to have vegan treats (and yes, I do always end up in a sugar coma afterwards). Today's cupcakes are sweetened with coconut palm sugar (less sugar "buzz" then refined sugar) but the icing is totally sugar-y. If you're looking for a less sugar-filled icing I highly recommend using the coconut whipped cream from this recipe and adding a little maple syrup and frozen strawberries.
For those of you looking to get your sugar on, here's the strawberry icing recipe:
1.5 cups powdered sugar
1/2 cup vegan butter (I used Earth Balance)
optional- 1-2 tbs non-dairy milk, added as needed to help blend
5-8 frozen strawberries
Combine powdered sugar and butter together in blender until completely smooth. Add milk as needed if blending is difficult.
Blend in strawberries until desired pink color is reached. Transfer to bowl and let sit in refrigerator for at least 30 minutes before using.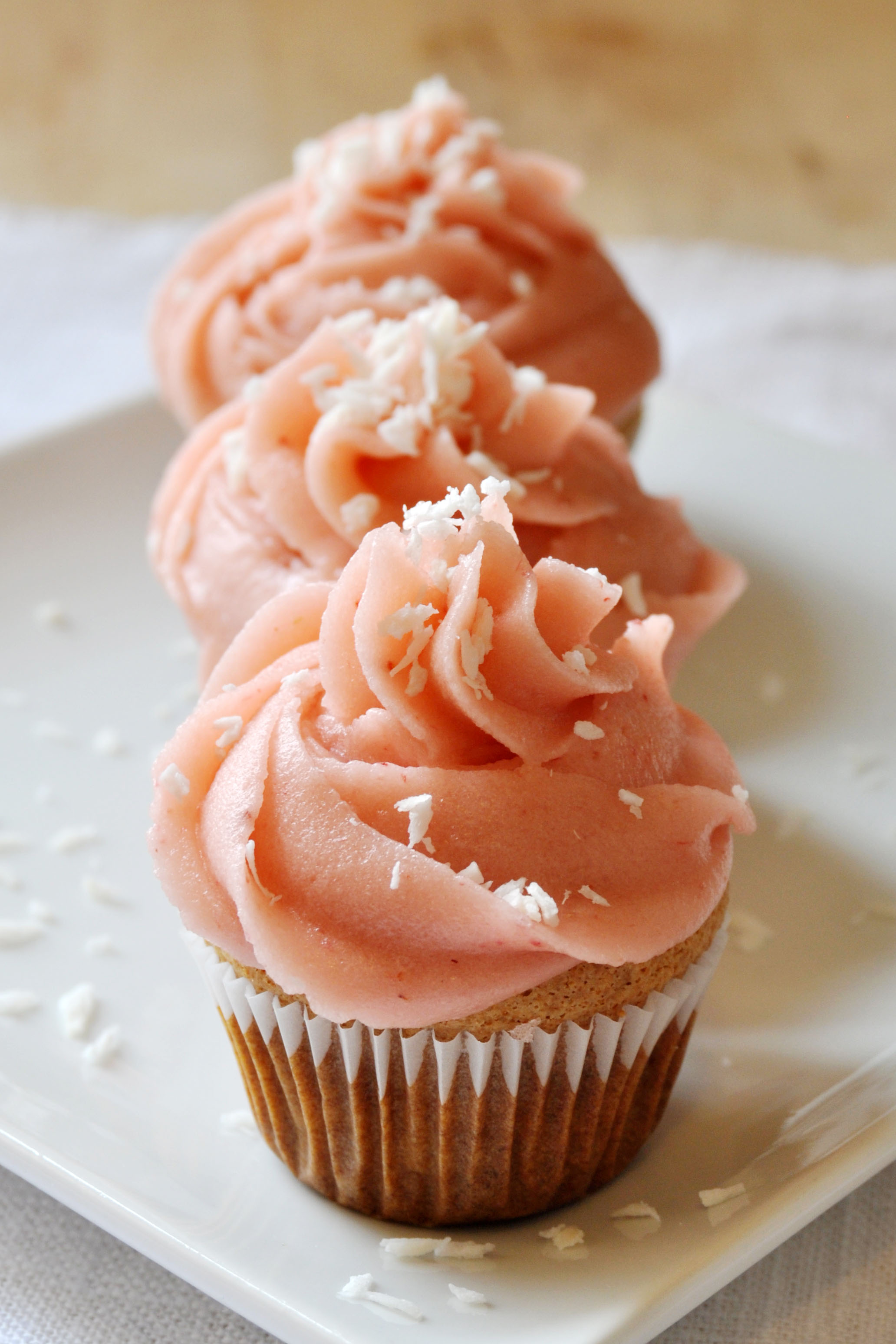 Valentine's Day Cupcakes with Strawberry Icing, Vegan + Gluten-Free
Cuisine:
vegan, gluten-free
Ingredients
1½ cups all purpose gluten-free flour
1½ tsp baking powder
¼ tsp baking soda
dash of salt
⅔ cup coconut palm sugar
1 small banana, mashed
¼ cup + 2 tbs coconut oil, softened
¼ cup + 2 tbs applesauce
¼ cup + 2 tbs non-dairy milk
2 tsp vanilla extract
optional- cocoa powder
Instructions
Preheat oven to 325°. Line a mini muffin tin with baking cups.
In a large bowl, whisk together flour, baking powder, baking soda and salt.
In a small bowl, stir together coconut sugar, banana, coconut oil, applesauce, milk and vanilla extract. Add contents of small bowl to large bowl and mix (by hand or with electric mixer) until smooth.
For chocolate cupcakes, add cocoa powder as desired (I used about ½ cup for half the batter).
Spoon batter into baking cups so they are about ¾ full. Bake for about 15-18 minutes, until edges are firm.
Let cool completely before adding icing. Enjoy!