Recently I found myself with a bowl full of soaking cashews and I was completely torn about what to make! Cashews are such a flexible ingredient, I use them as a base for everything from cheese to raw carrot cake.
On a whim I decided to go with something savory and today's Vegan, Gluten-Free Garlic Tahini Cream was born!
Served cold or at room temperature, it has a similar texture to sour cream but you can also heat it and make a drizzleable (is that a word?) sauce. After I made the cream I knew exactly what it should go on top of- one of the easiest recipes I know, Lentil and Kale Stuffed Sweet Potatoes.
The stuffed sweet potato recipe is one of my all-time favorites. I make it regularly and it's one of the 21 dinner recipes in my Healthy Happy You program meal plan! Ps- have you registered yet? It's like spring cleaning but 1000x more fun!
You'll find the sweet potato recipe below the photo. To make the garlic tahini cream simply blend together the following ingredients:
1 cup raw cashews, soaked at least 4 hours
juice of half a lemon
1 tbs olive oil
1 tbs tamari
2 tbs tahini
1 clove garlic
salt and pepper to taste
water, added as needed (1-3 tbs)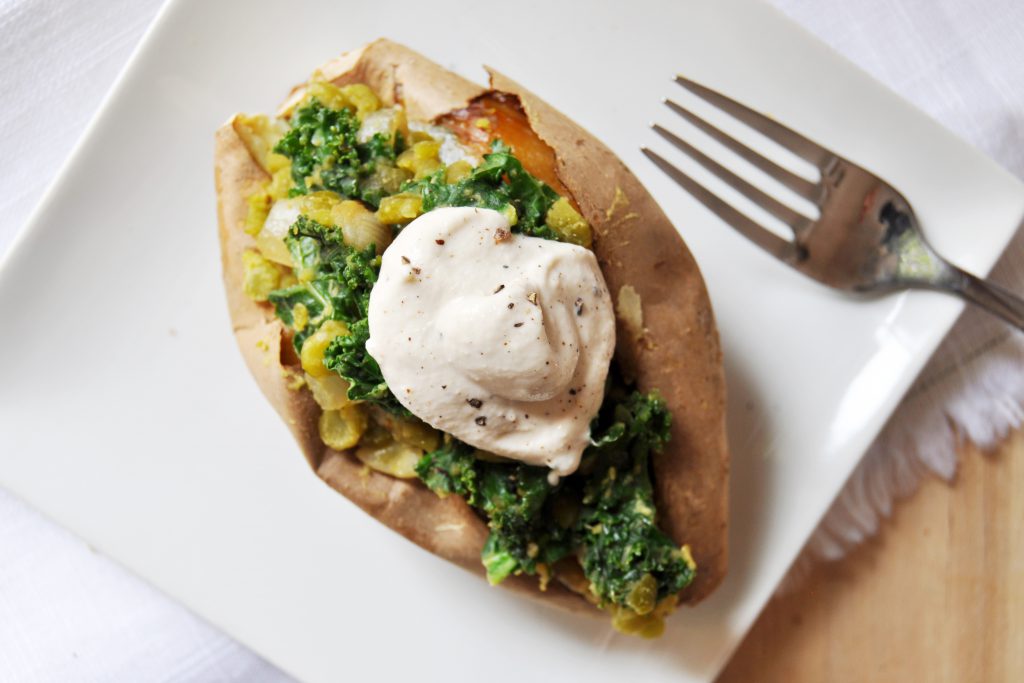 Lentil, Kale Stuffed Sweet Potatoes
Cuisine:
vegan, gluten-free
Ingredients
4 medium sweet potatoes, scrubbed
2 tbs coconut oil
1 medium onion, diced
2 cloves garlic, minced
1 cup dry green lentils
2 cups vegetable broth
4 cups packed kale, shredded
1 tbs gluten-free tamari
salt and pepper to taste
Instructions
Preheat oven to 400°. Line baking sheet with aluminum foil.
Use a fork to poke several holes in sweet potatoes. Place on baking sheet and
bake until tender (about 45 minutes).
Heat 1 tbs coconut oil in a saucepan at medium-high heat. Add onion and garlic
and saute for 7 minutes.
Add vegetable broth to pot and bring to a boil. Add lentils and simmer 30-35
minutes, until liquid is absorbed.
Turn heat off and fold kale into lentils. Stir in tamari, salt and pepper and cover.
Slice the top of two of the sweet potatoes open. Spread ½ tablespoon of coconut oil in opening, then stuff with lentil/kale mixture.