Any other cornbread fans in the house??
I've always loved cornbread, even as a kid when we would make the super unhealthy boxed mix kind! Luckily today I've upgraded my ingredients and have a recipe that you can feel good about eating!
Today's Vegan Rosemary Spelt Skillet Cornbread really takes the cake cornbread! I used smoked paprika which adds a slightly spicy smokey flavor that goes perfectly with the rosemary. I baked it in a cast iron skillet which adds an extra crispy crust, but if you don't have one on and a glass baking dish will definitely do.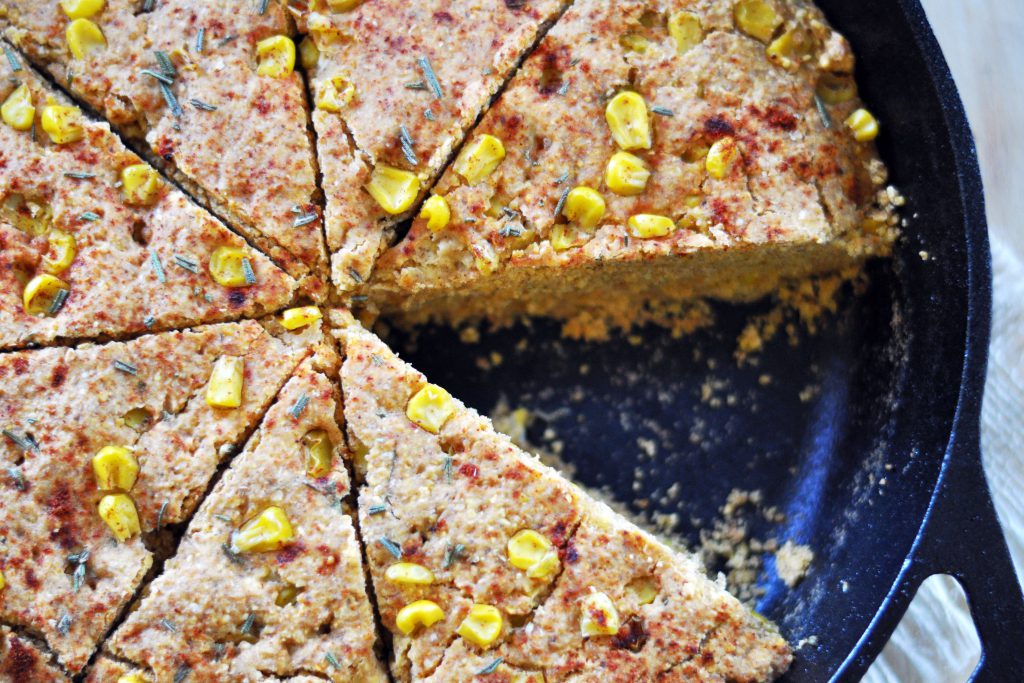 Vegan Rosemary Spelt Cornbread
Ingredients
1 tbs ground flax
3 tbs warm water
2 cups cornmeal
1 cup spelt flour
1 tbs baking powder
⅛ tsp salt
1 tbs fresh rosemary, chopped
1 tsp smoked paprika
1 cup almond milk
1 tsp apple cider vinegar
¼ cup coconut oil, melted
¼ cup maple syrup
1 cup corn kernels
Instructions
Preheat oven to 375°. Grease a 10" skillet.
Prepare flax "egg' by stirring ground flax together with warm water in a small bowl. Let sit 10 minutes before using.
In a large bowl, whisk together cornmeal, flour, baking powder, salt, rosemary and paprika.
In a small bowl, stir together almond milk, apple cider vinegar, coconut oil and maple syrup.
Add contents of small bowl to large and mix thoroughly. Fold in corn kernels.
Transfer batter to skillet and press down evenly. Bake for 25 minutes, until edges are crips and golden. Let it sit until cool enough to handle, then serve warm.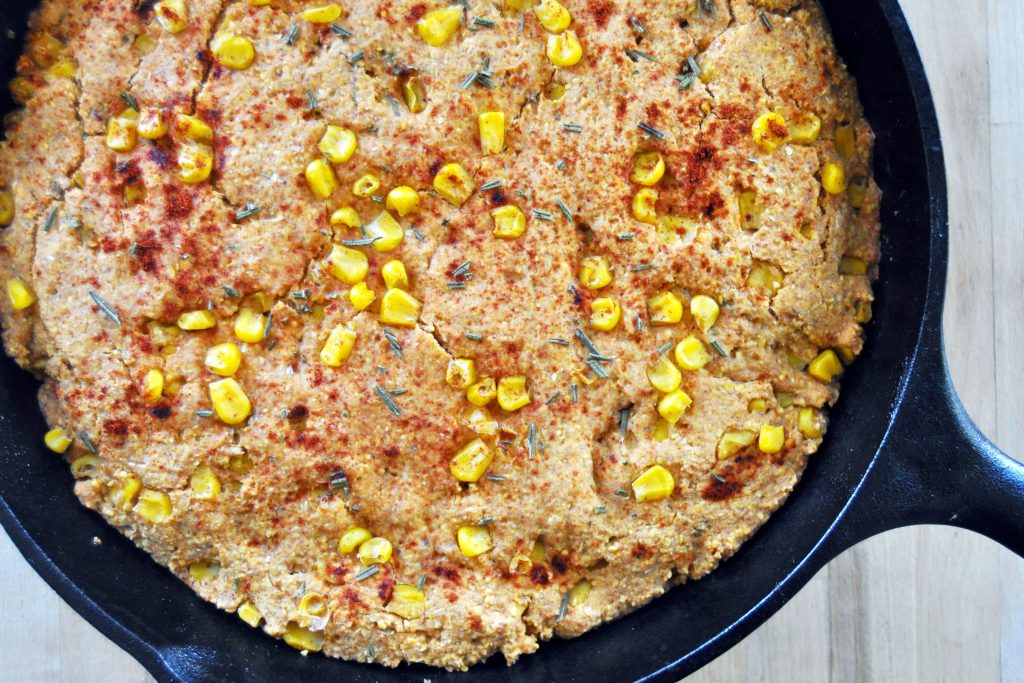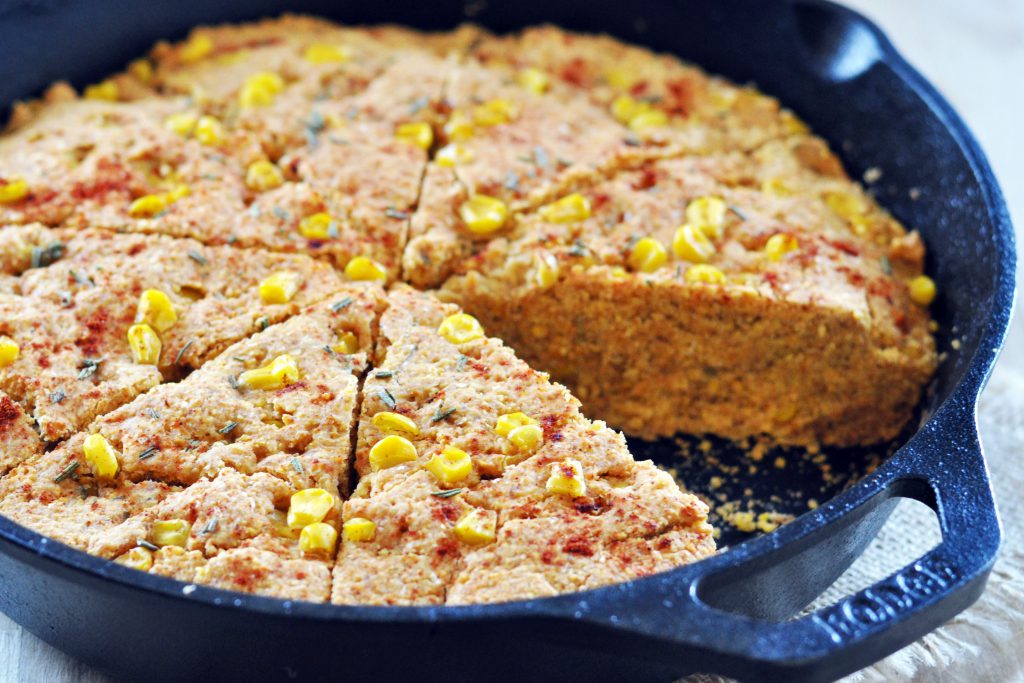 Did I mention it goes perfectly with chili?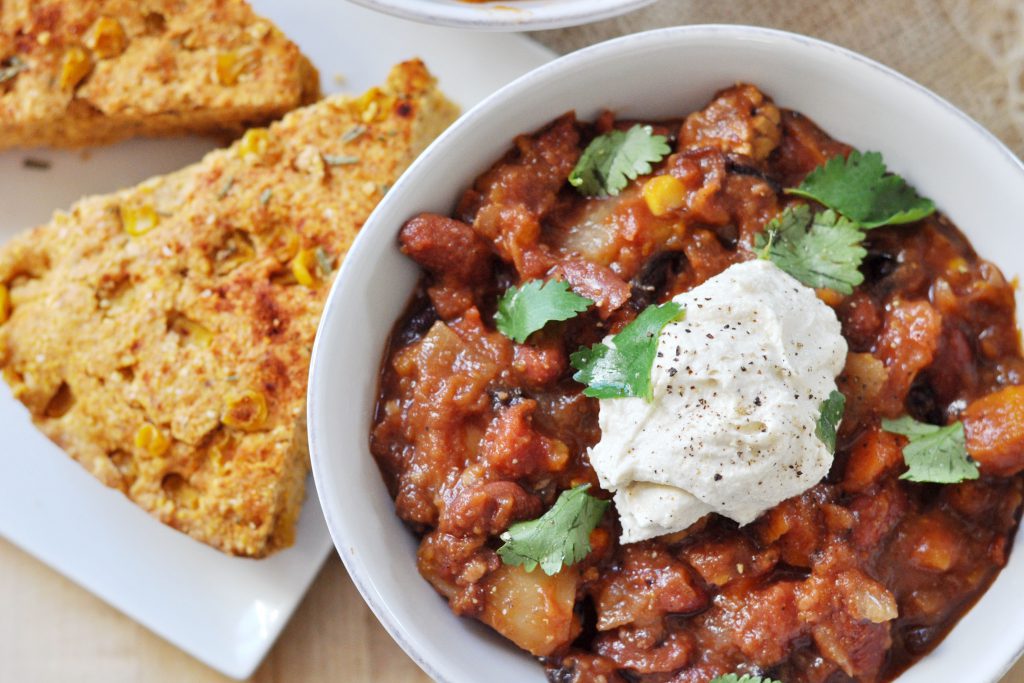 ps- this cornbread is one of the recipes in The Colorful Kitchen guide to Vegan Thanksgiving! Click on the photo below to download your free copy…