Today we're cooking up something extra fresh in the kitchen!
This Vegan & Gluten-Free Easy Fresh & Savory Pasta has recently become a go-to dinner at my house. The combination of flavors is light but it's also filling and super satisfying. It's a little Italian, a little Mediterranean and feels perfect for spring.
For the pasta, lately I've been loving these brown rice noodles (I also love their buckwheat noodles for an Asian stir-fry). I used a jar of artichoke hearts because I still haven't gotten down the perfect method for roasting artichokes, plus it's quite time-consuming.
I like top everything off with olive oil and fresh lemon juice but if you're in a marinara mood that would also be delicious!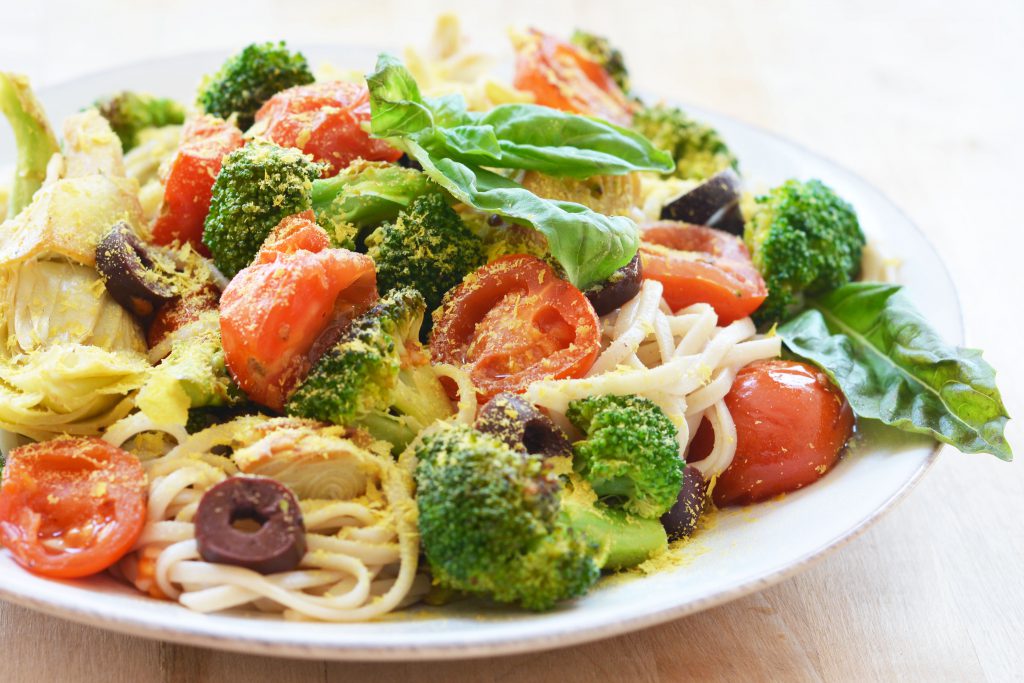 Easy Fresh & Savory Pasta, Vegan & Gluten-Free
Ingredients
1 package of your favorite pasta (I used this)
1 tablespoons olive oil
2 garlic cloves, minced
1 broccoli crown, broken into florets
1 cup cherry tomatoes, sliced in half
1 cup artichoke hearts, sliced
¼ cup olives, sliced
added to taste
olive oil
fresh lemon juice
nutritional yeast
salt and pepper
fresh basil
Instructions
Prepare pasta according to instructions.
In a medium pan, heat olive oil at medium heat. Add garlic and broccoli and saute for 3-5 minutes, until broccoli turns bright green. Add tomatoes and saute for another 3 minutes.
Add artichoke hearts and olives and stir until everything is warm.
Transfer pasta to plates or bowls. Serve broccoli mixture over pasta. Top with olive oil, lemon juice, nutritional yeast, salt, pepper and basil, as desired.