Today's recipe is still a work in progress- a delicious work in progress that I'm more than happy to keep testing!
After my batch of last week's Vegan, Gluten-Free No-Bake Chocolate Peanut Butter Bars got eaten up way too quickly (OMG they're so good!) I was eager to whip up another raw, sugar-free treat. I was still craving the caramel peanut butter from the bars so I used that as a starting point and came up with today's Vegan, Gluten-Free No-Bake PB & J Cake.
I'm calling this recipe a work in progress because while the "J" layer is super yummy, the consistency didn't come out quite how I had hoped. It melts when left in the refrigerator, so the cake needs to be kept frozen and thawed a bit before serving. It's not ideal but who am I to turn away a dessert with a tiny flaw! I think next time I'll swap that layer for something cashew-based, like in this raw cheesecake.
Even though the cake is a little more frozen than I would like, I'm definitely still enjoying it and my strangely timed raw dessert winter renaissance is still going strong!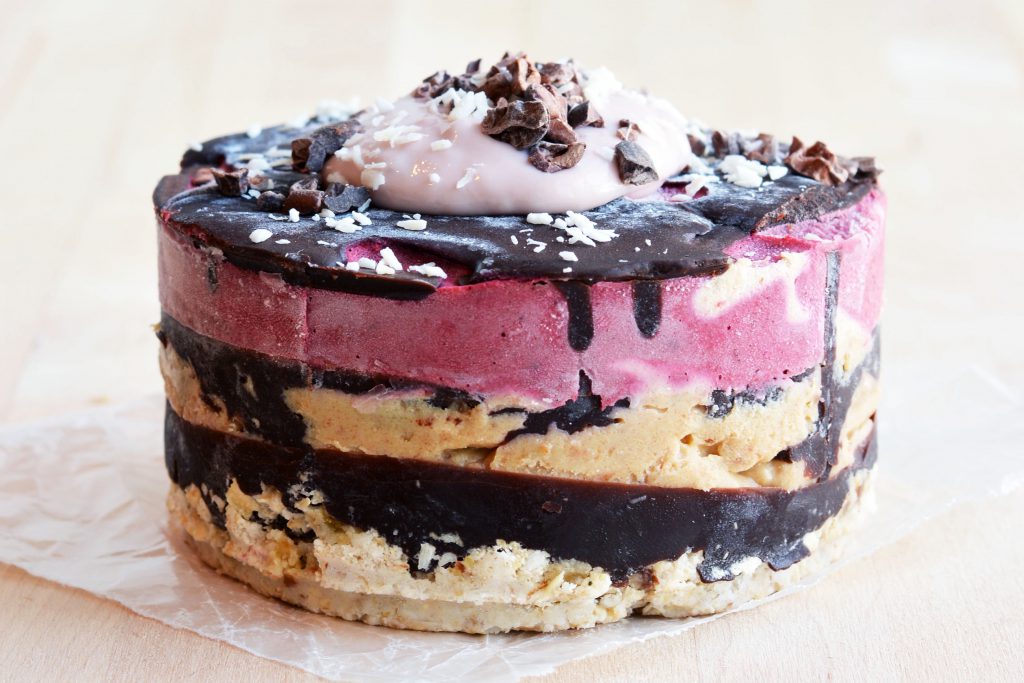 No-Bake Chocolate PB & J Cake, Vegan & Gluten-Free
Author:
Ilene Godofsky Moreno
Ingredients
crust
¼ cup + 2 tablespoons rolled oats
2 tablespoons shredded coconut
3 pitted dates (soaked in hot water for 30 minutes if not soft)
1 tablespoon coconut oil, melted
1 tablespoon maple syrup
pinch of salt
caramel peanut butter
1 cup pitted dates (soaked in hot water for 30 minutes if not soft)
¼ cup peanut butter
2 tablespoons non-dairy milk
2 tablespoons coconut oil, melted
pinch of salt
berry layer
1 cup frozen mixed berries
juice of half a lemon
1 tablespoon maple syrup
chocolate
½ cup coconut oil, melted
¼ cup cocoa
¼ cup maple syrup
optional toppings
coconut yogurt
cacao nibs
shredded coconut
Instructions
Set out two 4" mini springform pans.
To prepare the crust, pulse the oats in a blender or food processor until flour is formed. Add all other crust ingredients and pule until mostly smooth texture is formed. Scoop the mixture out and press it into the bottom the pans.
To prepare the chocolate layer, in a small cup, stir all ingredients together until smooth. Pour enough over the crust to cover. Place the pans in the freezer to set.
To prepare the caramel peanut butter layer, blend all ingredients until smooth. Spread the mixture over the chocolate layer, then add another layer of chocolate and return the pans to the freezer.
To prepare the berry layer, combine all ingredients in the blender until smooth. Spread the mixture over the last chocolate layer, then drizzle the remaining chocolate on top.
Place the pans in the freezer to set for at least 2 hours. When the cakes are completely solid, remove them from the springform pans. Let the cakes sit out at room temperature for 10-15 minutes before serving. Garnish with your choice of toppings!