I love making homemade almond milk*. It's so creamy and fresh, and it tastes so much nuttier than store-bought brands.
The one thing I don't love about making almond milk is the leftover almond pulp. Every time I toss the pulp in the compost bin I sigh and think about how expensive almonds are (even though making homemade almond milk is cheaper than store-bought), and I feel so wasteful.
Then last week when I was whipping up a fresh batch of almond milk, Ross came in the kitchen and asked what I do with the leftover almond milk pulp. At that moment I decided enough was enough- I'm putting that pulp to good use!
What could possibly be a better use than…cookies! Later that night I proudly handed him a fresh-out-of-the-oven cookie and said, "This is what I do with the pulp!!" Apparently he doesn't spend as much time thinking about almond milk pulp as I do because he had no clue what I was talking about, but he sure loved the Vegan & Gluten-Free Almond Milk Pulp Chocolate Chunk Cookies!
The recipe is adapted from my classic chocolate chip cookie recipe. I swapped most of the flour out for almond milk pulp and oats, which give the cookies a chunky, oatmeal cookie-ish texture. Keeping with the chunky theme, I used chocolate chunks instead of chocolate chips, which i think make the cookies extra fun.
Don't forget to dunk them in your homemade almond milk!
*My homemade almond milk is recipe below. If you've never made nut milk before, I promise it's actually super easy!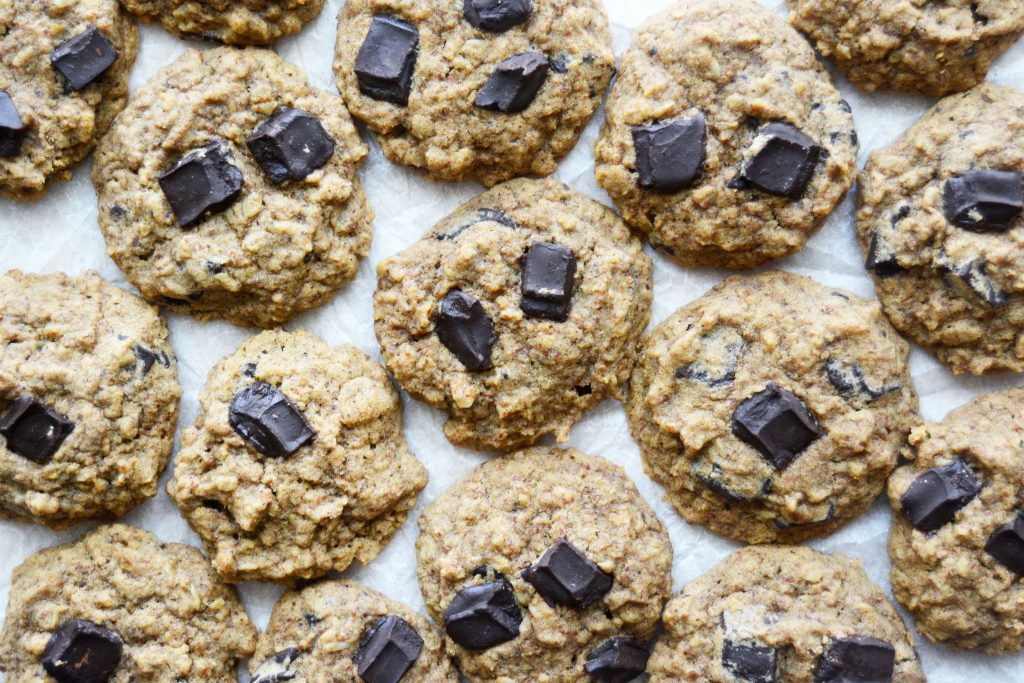 Almond Milk Pulp Chocolate Chunk Cookies, Vegan & Gluten-Free
Author:
Ilene Godofsky Moreno
Cuisine:
vegan gluten-free
Ingredients
flax "egg"
1 tbs ground flaxseed
3 tbs warm water
dry
1 cup rolled oats
½ cup flour of your choice (I used spelt but your favorite gluten-free flour should work too)
½ cup almond milk pulp
⅔ cup coconut sugar
½ tsp baking soda
⅛ tsp salt
wet
⅔ cup vegan butter or coconut oil, softened
2 tsp vanilla extract
¼ cup non-dairy milk
fold-in
½ cup vegan chocolate chunks
Instructions
Preheat the oven to 350°. Grease a baking sheet.
Prepare the flax "egg" by stirring together flax and water in a small bowl or cup. Let it sit for 10 minutes before using.
In a large bowl, whisk the dry ingredients together.
In a small bowl, stir the wet ingredients together and add the flax "egg".
Add the contents of the small bowl to the large and mix until thoroughly combined (you can use electric mixer or do it by hand). Fold in the chocolate chunks.
Scoop a little more than 1 tablespoon of batter onto the baking sheet for each cookie. Use your hand to slightly flatten each scoop of batter.
Bake for 11-13 minutes, until the edges are lightly golden. Let the cookies cool for a few minutes before enjoying them.
Homemade Almond Milk
Author:
Ilene Godofsky Moreno
Ingredients
1 cup raw almonds, soaked in water overnight
4 cups water
1-2 pitted dates (omit for unsweetened milk)
dash of salt
Instructions
Drain and rinse the almonds. Place them in the blender with the remaining ingredients and blend on high for at least a minute.
Strain the milk by pouring it through a nut milk bag over a large bowl. The bag will catch the pulp and you'll be left with a smooth and creamy milk.
Transfer the milk to an airtight container and store in the refrigerator.